Privacy Policy
We recognize that your privacy is important. This document outlines the types of personal information we receive and collect when you use MDIMC.sg, as well as some of the steps we take to safeguard information. We hope this will help you make an informed decision about sharing personal information with us.
We strive to maintain the highest standards of decency, fairness and integrity in all our operations. Likewise, we are dedicated to protecting our customers', consumers' and online visitors' privacy on our website.
Personal Information
MDIMC.sg collects personally identifiable information from the visitors to our website only on a voluntary basis. Personal information collected on a voluntary basis may include name, postal address, email address, company name and telephone number.
This information is collected if you request information from us, participate in a contest or sweepstakes, and sign up to join our email list or request some other service or information from us. The information collected is internally reviewed, used to improve the content of our website, notify our visitors of updates, and respond to visitor inquiries.
Once information is reviewed, it is discarded or stored in our files. If we make material changes in the collection of personally identifiable information we will inform you by placing a notice on our site. Personal information received from any visitor will be used only for internal purposes and will not be sold or provided to third parties.
Use of Cookies and Web Beacons
We may use cookies to help you personalize your online experience. Cookies are identifiers that are transferred to your computer's hard drive through your Web browser to enable our systems to recognize your browser. The purpose of a cookie is to tell the Web server that you have returned to a specific page. For example, if you personalize the sites pages, or register with any of our site's services, a cookie enables MDIMC.sg to recall your specific information on subsequent visits.
You have the ability to accept or decline cookies by modifying your Web browser; however, if you choose to decline cookies, you may not be able to fully experience the interactive features of the site.
A web beacon is a transparent image file used to monitor your journey around a single website or collection of sites. They are also referred to as web bugs and are commonly used by sites that hire third-party services to monitor traffic. They may be used in association with cookies to understand how visitors interact with the pages and content on the pages of a web site.
We may serve third-party advertisements that use cookies and web beacons in the course of ads being served on our web site to ascertain how many times you've seen an advertisement. No personally identifiable information you give us is provided to them for cookie or web beacon use, so they cannot personally identify you with that information on our web site.
Some third-party advertisements may be provided by Google, which uses cookies to serve ads on this site. Google uses the DART cookie, which enables it to serve ads to our users based on their visits to this site and other sites on the Web. You may opt out of the use of the DART cookie by visiting the Google ad and content network privacy policy a https://www.google.com/privacy_ads.html.
Browsers can be set to accept or reject cookies or notify you when a cookie is being sent. Privacy software can be used to override web beacons. Taking either of these actions shouldn't cause a problem with our site, should you so choose.
Children's Online Privacy Protection Act
This website is directed to adults; it is not directed to children under the age of 13. We operate our site in compliance with the Children's Online Privacy Protection Act, and will not knowingly collect or use personal information from anyone under 13 years of age.
Non-Personal Information
In some cases, we may collect information about you that is not personally identifiable. We use this information, which does not identify individual users, to analyze trends, to administer the site, to track users' movements around the site and to gather demographic information about our user base as a whole. The information collected is used solely for internal review and not shared with other organizations for commercial purposes.
Release of Information
If MDIMC.sg is sold, the information we have obtained from you through your voluntary participation in our site may transfer to the new owner as a part of the sale in order that the service being provided to you may continue. In that event, you will receive notice through our website of that change in control and practices, and we will make reasonable efforts to ensure that the purchaser honors any opt-out requests you might make of us.
How You Can Correct or Remove Information
We provide this privacy policy as a statement to you of our commitment to protect your personal information. If you have submitted personal information through our website and would like that information deleted from our records or would like to update or correct that information, please use our Contact Us page.
Updates and Effective Date
MDIMC.sg reserves the right to make changes in this policy. If there is a material change in our privacy practices, we will indicate on our site that our privacy practices have changed and provide a link to the new privacy policy. We encourage you to periodically review this policy so that you will know what information we collect and how we use it.
Agreeing to Terms
If you do not agree to MDIMC.sg Privacy Policy as posted here on this website, please do not use this site or any services offered by this site.
Your use of this site indicates acceptance of this privacy policy.
---
Advisories on Collection of Personal Data for COVID-19 Contact Tracing and Use of SafeEntry - Singapore

Organisations may collect personal data of visitors to premises for purposes of contact tracing and other response measures in the event of an emergency, such as during the outbreak of the coronavirus disease 2019 (COVID-19).

In the event of a COVID-19 case, relevant personal data, including NRIC can be collected, used and disclosed without consent during this period to carry out contact tracing and other response measures, as this is necessary to respond to an emergency that threatens the life, health or safety of other individuals.

Organisations that collect such personal data must comply with the Data Protection Provisions of the PDPA, such as making reasonable security arrangements to protect the personal data in their possession from unauthorised access or disclosure, and ensuring that the personal data is not used for other purposes without consent or authorisation under the law.

https://www.pdpc.gov.sg/Help-and-Resources/2021/05/Advisory-on-Collection-of-Personal-Data-for-COVID-19-Contact-Tracing

---
Pain Relief Treatment, Therapy & Management

---
---
Health Assessment & Screening Packages
---
| | |
| --- | --- |
| | Up to $400 per Medisave Account per year can be used for Vaccinations under the National Adult & Childhood Immunisation Schedule - Influenza, Pneumococcal (PCV13/PPSV), Human Papillomavirus (HPV2/HPV4), Hepatitis B, Tetanus, Diphtheria & Pertussis (Tdap), Measles, Mumps & Rubella (MMR) and Chickenpox (Varicella) |
Part of the National Influenza Sentinel Surveillance programme with MOH. If you have a fever of > 38 degrees with a cough, our clinic is able to test for COVID-19. For children below 12 years old with clinical diagnosis of HFMD (eg fever, oral ulcers, rash), our clinic can test for Hand Foot & Mouth Disease (The tests are for surveillance purposes only).

---
Pain Relief Management & Treatment, Vaccinations, Health Screening, COVID & Allergy Testing, Dermatology Treatments, Minor Surgical Procedures
---
Learn about the Diagnosis, Treatment and/or Removal of the following skin problems:
Fungal Nail Infection treatment

Chickenpox / Shingles & Nerve pain treatment

Seborrheic Keratosis treatment

Age spots / Sunspots (Solar Keratosis) treatment

Hemangioma / Syringioma / Rosacea treatment

Birthmarks removal

Varicose Veins treatment

Skin tags removal

Skin Hyperpigmentation /Melasma treatment

Keloid scars removal

Vascular lesions treatment

Acne (Whiteheads / Blackheads / Papules / Pustules / Nodules / Cysts) treatment

Non-Healing Mouth or Tongue Ulcers diagnosis & treatment

Steroid cream overuse diagnosis & treatment

Nevus of Ota / Cafe au Lait Skin spot removal

Freckles / Lentigines removal

Psoriasis / Dry Skin treatment

Treatment of Insect Bites (Bee stings/Bed bugs/Fire ants/Fleas/Hair lice/Mosquito/Sandflies/Scabies mites/Spider/Tick bites)

Dermoscopy - Non-invasive detection of skin cancers (Carcinomas & Melanomas), Pubic lice & Scabies mites

---
Management of Joint Pains & Gout

---
Watch this fascinating Ted.com video by Dan Buettner, National Geographic writer and explorer who studies the world's longest-lived peoples, distilling their secrets into a single plan for health and long life - How to live to be 100+.
---
MD International Medical Centre

Medical Services available:
General Practice Family Medicine - Illnesses & Infections

Minor Surgical Procedures

IV Infusion of Medications

Respiratory Medicine - Influenza, Colds, Cough, Upper Respiratory Tract Infections (URTI), Acute Respiratory Infections (ARI), Sinus Infection

Treatment of Gastric issues, Stomach aches, Irritable Bowel Syndrome, Heartburn

Infectious diseases & Virology -

COVID-19

,

Dengue

,

Flu

,

Hepatitis B

etc

Dermatology -

Skin Problems

(

Eczema

,

Acne

,

Rash

, Boils,

Dermatitis

, Pigmented or

Dry Skin

,

Mole

s /Skin Tags /

Wart Removal

)

Dermoscopy

- Non-invasive Detection of Skin Cancer, Pubic lice & Scabies

Look Younger - Botox injections

Eye Health / Ophthalmology -

Conjunctivitis

,

Foreign body in the Eye

etc

Respiratory Medicine -

Cough, Wheezing, Shortness of breath

Ear, Nose & Throat (ENT) - Ear Wax Removal, Ear Otitis Enterna,

Nose Bleed-Epistaxis

,

Snoring & Sleep Apnoea

,

Vertigo & Dizziness

, Audiogram (Hearing test)

Pain Management, Treatment & Therapy - Arthritis, Back & Joint Pain, Migraine, Gout


Sports Medicine - Treatment of Sports Injuries

Vaccinations / Immunization - Latest Flu vaccine, Sinopharm COVID Vaccine & Booster

Travel Health - Travel Vaccinations & Health checks,

Travellers' Diarrhoea

Allergy tests / Allergic Rhinitis / Asthma Management

Health Screening / Blood tests

Management of Chronic Diseases -

Treating Prediabetes, Diabetes & Insulin Resistance

/ Hypertension

Heart Health - ECG Heart monitoring / High Cholesterol management / Chest pains

Executive Health Assessment - Pre-Employment check-up / Work Permit / Employment Pass / Employment Pass

Student Pass / Driving License Check-up

Personal Health Management - Preventative Medicine & Disease Prevention

Elderly / Senior Health

Men's Health - Erectile Dysfunction medications etc

Women's Health- Osteoporosis, Heavy Periods, Breast lumps, Urinary Tract Infection, Anaemia, Tremors

Child Health

& Nutrition

/

Paediatrics

Obesity / Weight control & Safe Weight loss / Nutrition & Diet

Depression / Anxiety / Insomnia & Stress Management

Erectile Dysfunction medications / Sexually transmitted diseases (STD)
---
Public Health Preparedness Clinic
National University Health System Primary Care Network
Singapore Ministry of Health Chronic Disease Management Programme (CDMP)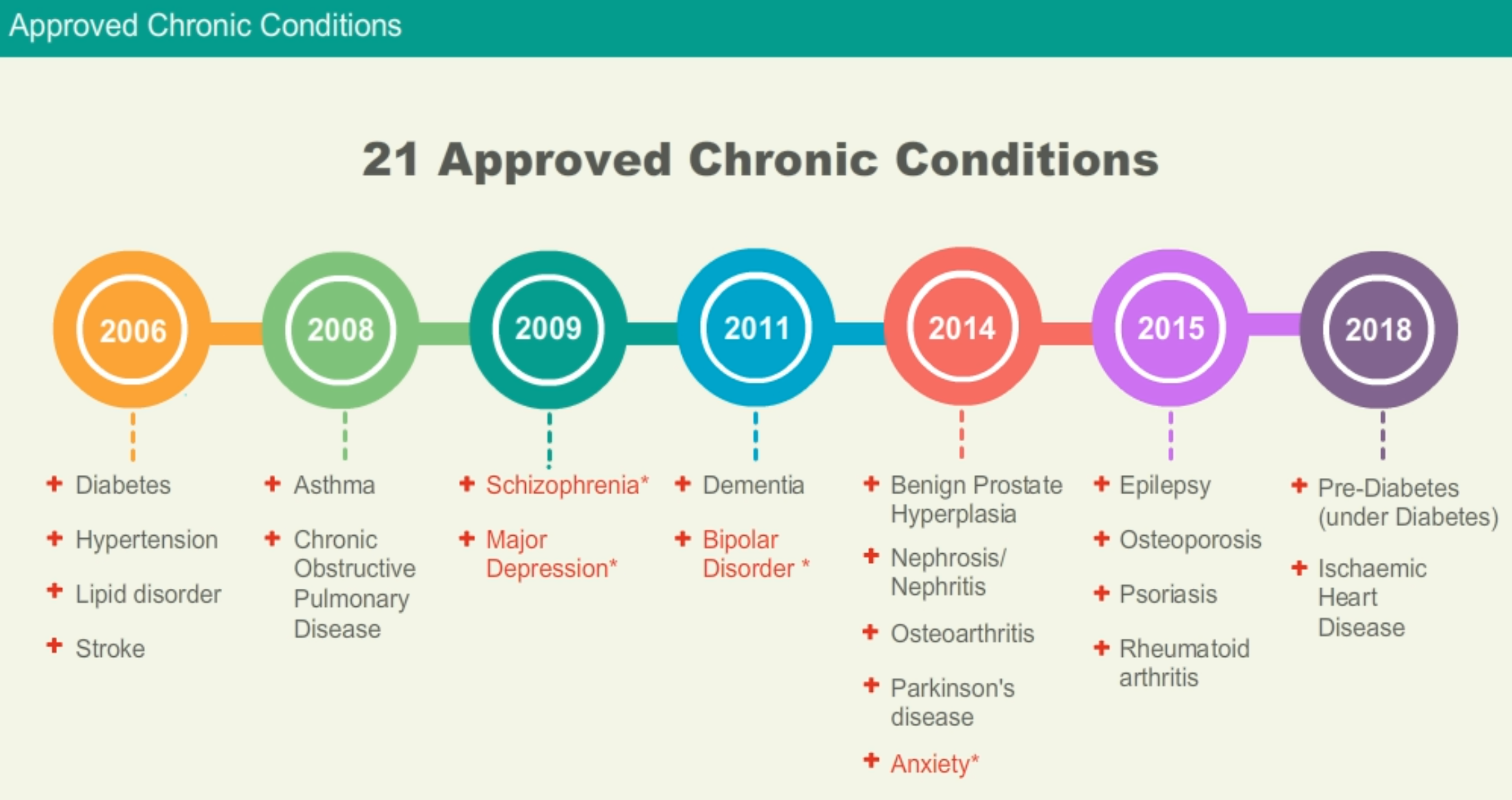 The information provided in this website is for knowledge purposes only. It does not constitute medical advice.

Should you encounter any medical problem that you are unsure of, always consult your doctor or health care provider for assistance and medical advice.
MD International Medical Centre / MD International (Singapore) Pte Ltd