Latest Influenza Vaccine Available now
Protects against Flu 2020 and H1N1 Viruses
Make a Vaccination Appointment at Tel : 6694 1661
* Limited Stocks / While stocks last

| | |
| --- | --- |
| Flu Subsidy Scheme eligible for Singaporeans & PRs (Pay subsidied rate of $10 for Consultation and Treatment) & Merdeka Generation /Pioneer Generation seniors (Pay subsidised rate of $5) for patients diagnosed with Acute Respiratory Infections (ARIs). Please make your appointment at Tel: 6694 1661. | |
AIPC is part of the National Influenza Sentinel Surveillance programme with MOH. If you have a fever of > 38 degrees with a cough, our clinic is able to test for COVID-19. For children below 12 years old with clinical diagnosis of HFMD (eg fever, oral ulcers, rash), our clinic can test for Hand Foot & Mouth Disease.

---
Travel Health
- Guide for Travellers
| | |
| --- | --- |
| | Travellers to countries that have low standards of health and hygiene risk contracting infectious diseases. Most problems are caused by contaminated food and water and by mosquitoes, which transmit malaria, yellow fever, dengue and Japanese encephalitis. |
Prevention is better than cure; the advice that follows is designed to minimise the chance of contracting a serious disease while travelling overseas.
Food and drink
| | |
| --- | --- |
| | Diseases that can be picked up from eating and drinking contaminated food include travellers' diarrhoea, hepatitis A, cholera and typhoid. |
While visiting countries at risk, drink only boiled water and reputable commercially bottled beverages. Avoid ice, dairy products, salads, uncooked foods, ice cream, raw seafood, shellfish and food from street vendors. You can purify water by boiling it or adding iodine tablets.
Vaccinations
Important recommended vaccinations are shown in the table. Your doctor will advise you on which vaccinations you will need. Other diseases to consider are rabies and typhus.
Malaria
| | |
| --- | --- |
| | One sting from an infected mosquito can cause serious illness. Malaria is common in many African, South American and South-East Asian countries. To prevent malaria, protect yourself from mosquitos and take anti-malarial drugs prescribed by your doctor. |
Avoid rural areas after dusk. Use insect repellents that contain diethyltoluamide (such as Rid or Repellem). Wear protective light-coloured clothing with long sleeves and legs, and sleep in screened rooms or use mosquito nets. Avoid using cologne, perfume and aftershave.
Antimalarial drugs should be taken before exposure and up to 4 weeks after exposure to give maximum protection.
Malaria that resists drug treatment with chloroquine occurs in many countries, your doctor will prescribe another drug as well as or instead of the usual choloroquine if you are at risk of exposure to this type of malaria.
Drugs cannot guarantee 100% protection. If you develop an unexplained fever, sore throat or sever rash, seek medical advice.
Your destination
Different countries have different vaccination requirements. For advice about the country you intend to visit, contact your own doctor.
Diarrhoea
There are several ways to relieve and treat travellers' diarrhoea:
1.       Avoid solid foods and drink small amounts of fluids often. (Remember: user only boiled water or safe commercial beverages.)
2.       Rest.
3.       Take antidiarrhoeal tablets as directed (for mild cases).
4.       When the diarrhoea has settled, eat light foods such as rice, bread or biscuits.
Some golden rules
·       Never carry a parcel or baggage to oblige a stranger.
·       Avoid casual sex. If not, use a condom.
·       'If you can't peel it, boil it or cook it, don't eat it.'
·     Never walk around barefoot at night in snake-infested areas (and use a torch).
·       Prevent mosquito bites.
A guide to vaccination for travellers for important diseases (in rural areas of high risk countries)
These other webpages below may also interest you, click to learn more about your health condition.

Diarrhea Treatment, Learn what is Gastroenteritis, Management of Irritable Bowel Syndrome & Heartburn or GERD

---
Healthy Diets for Optimal Health

The Surprising Science of Happiness | Dan Gilbert | TED Talks
Dan Gilbert, author of Stumbling on Happiness, challenges the idea that we'll be miserable if we don't get what we want. Our "psychological immune system" lets us feel truly happy even when things don't go as planned.

---
---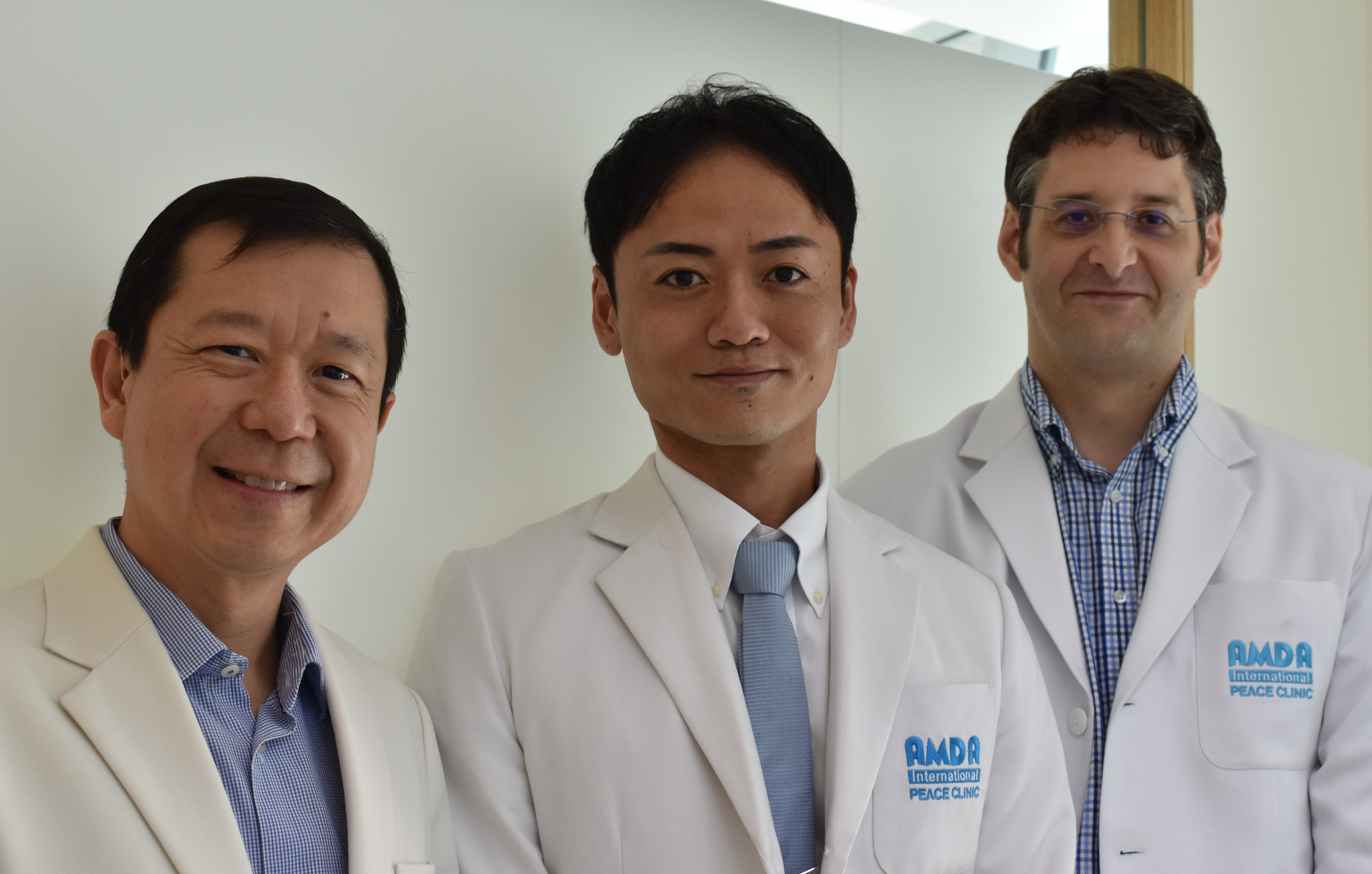 Our Medical Team

Dr Don Lau - Medical Director
Dr Timothy Hart - Resident Doctor
Fujiwara Takanori - Doctor of Chiropractic

---
The information provided in this website is for knowledge purposes only. It does not constitute medical advice.

Should you encounter any medical problem that you are unsure of, always consult your doctor or health care provider for assistance and medical advice.
Dr Don V H LAU   Chairperson of AMDA Singapore
MBBS (Monash), B.Med.Sc.(Hons) (Monash), Grad.Dip.Derm.(Wales,UK)

AMDA International Peace Clinic is a part of AMDA (Association of Medical Doctors of Asia). We are part of the network of AMDA Peace Clinics & Friendship Hospitals around the world. We dedicate part of our profits to AMDA's worldwide Emergency Disaster Aid Relief missions, Social Development projects and Vaccination programmes.
AMDA, founded in 1984 has carried out more than 200 medical missions, contributing medical expertise and supplies in 65 countries over the last 36 years. AMDA holds General Consultative Status with the United Nations Economic & Social Council (UN ECOSOC) since 1995.
AMDA International Chapters   Afghanistan Albania Bosnia & Herzegovina Bangladesh Bolivia Cambodia Canada Colombia Guyana Haiti Honduras India Indonesia Kazakhstan Korea Kosovo Malaysia Mongolia Nepal New Zealand Pakistan Peru Philippines Sakha Republic Singapore Sri Lanka Sudan Taiwan Uganda Vietnam Zambia