What is Cancer?

Cancer is an abnormal disorganised growth of cells in the tissues of a person. The cells multiply out of control and drain vital nutrition from the normal cells. A foetus growing in a mother's womb is a rapid growth of cell, but unlike cancer, it is beautifully organised. Cancer is often referred to as a growth. There are 2 types of growth: benign and malignant. The benign type is more organised and not generally dangerous as opposed to malignant growth (cancer), which can spread from its original site to other areas of the body.
IS CANCER A SINGLE DISEASE?
No. Cancer is a group or class of diseases that share the main feature of uncontrolled cell growth.
WHAT CAUSES CANCER?
Although we are unable to identify several triggering factors (such as smoking for lung cancer, sunlight for skin cancer, and nuclear radiation for blood and other cancers), we still do not understand the how and why of what causes some cells to become malignant.
There is no hard evidence that cancer is contagious or is inherited, except for some rare cancers.
HOW LETHAL IS CANCER?
Cancer is still a leading cause of death, accounting for about 1 in 8 deaths of people under 35 and 1 in every 4 deaths of those over 45.
WHAT ARE THE COMMON SITES OF CANCER?
In men: skin, lungs, prostate, bowel, kidneys, testes, bladder, stomach, pancreas

In women: skin, breast, bowel, lungs, reproductive organs, kidneys, bladder, stomach, pancreas

The 6 commonest causes of death from cancer are cancer of the bowel, lung, breast, prostate, bladder and skin (melanoma)
WHAT ARE THE MAIN WARNING SIGNS (COMMON SYMPTOMS OF CANCER)?
Unusual bleeding or discharge

A lump or thickening of the breast or elsewhere

A sore that does not heal

A change in bowel or bladder habits

A persistent hoarseness or coughing

Persistent indigestion or difficulty in swallowing

Loss of weight

A change in wart or mole
DO THESE SYMPTOMS OR SIGNS ALWAYS MEAN CANCER?
No, not always, but it is dangerous to ignore them because the earlier the treatment (if cancer is the cause) the greater the chance of recovery. Unusual bleeding should always be treated very seriously. If you have any these listed symptoms or any trouble that persists longer than a month, see a doctor- to be on the safe side. It probably will not be cancer- but whatever it is should be cured!
---
David Agus: A new strategy in the war against cancer
Traditionally, David Agus explains, cancer treatments have had a short-sighted focus on the offending individual cells. He suggests a new, cross-disciplinary approach, using atypical drugs, computer modeling and protein analysis to treat and analyze the whole body.
IS PAIN AN EARLY SIGN OF CANCER?
No, not usually. Pain is usually a very late symptom of cancer, when it has grown into the nerves. People often think that persistent pain such as headache and back pain means cancer, but this is rarely the case. However, pain should not be ignored.
CAN CANCER BE CURED?
Once cancer has spread (metastasis), cures are very exceptional, but many cancers if detected and treated early (before the malignant cells have spread) can usually be completely cured. The cure rate for many cancers is steadily improving, particularly cancer of the cervix, testes, skin, large bowel, lymph glands (lymphoma) and blood (leukaemia).
WHAT ARE THE METHODS USED TO TREAT CANCER?
There are many methods used to treat cancer, including surgery, chemotherapy (special drugs to destroy fast growing cells), radiotherapy, laser therapy, and cryotherapy and hormone therapy. The specialist will choose the most effective treatment for the particular cancer. It is best not to delay treatment while you try 'quack cures', but there is certainly a place for 'whole person' treatment. Some patients find benefit from mediation, good nutrition and vitamin therapy in addition to specialised treatment.
HOW MAY CANCER BE PREVENTED?
Some areas worth considering (based on studies of communities where cancer is rare) are:
Do not smoke

Have a healthy diet including vegetables, fruit and fish

Avoid exposure to harmful sun (use a hat, long sleeves and block out lotion)

Be relaxed- avoid stress and anxiety; practise meditation

Avoid exposure to radioactivity and asbestos
Other than this, screening measures for the early detection include:
2 yearly pap smear up to the age of 70

Regular mammography for women over 50

Regular breast or testicular self-examination

Bowel examination for those at risk

Regular inspection of the skin
Please seek Medical attention as soon as possible if you are unsure of you or your family's health condition.
William Li - Can we eat to starve cancer?

William Li presents a new way to think about treating cancer and other diseases: anti-angiogenesis, preventing the growth of blood vessels that feed a tumor. The crucial first (and best) step: Eating cancer-fighting foods that cut off the supply lines and beat cancer at its own game.
---
Here is a list of the Best Antioxidants and Free Radical Scavengers that you should be taking as dietary supplements daily as recommended by Dr David Perlmutter, author of 'Grain Brain':
Tumeric
DHA Omega 3
B complex vitamins (including Vitamin B12)

Vitamin C & D
Bacopa
Brocolli
Alpha-Lipoic acid 300 (ALA)
Ashwagandha
Resveratrol
Milk Thistle
Green Tea
Probiotics
Coenzyme Q10 (coq10)
These nutritional supplements reduce oxidative stress on your brain and body, thus protecting your health.

---
| | |
| --- | --- |
| | Is a full body check-up for you, now that you have reached a certain milestone in life? Absolutely! All men and women should have a medical screening done regularly even when you feel perfectly fine. You can detect any health conditions and diseases or detect any cancer markers early, enabling you to get treatment earlier, increasing your chances of overcoming the illness. |
Learn more about our affordable Health Screening & Blood test packages here.

---
| | |
| --- | --- |
| | Up to $400 per Medisave Account per year can be used for Vaccinations under the National Adult & Childhood Immunisation Schedule - Influenza, Pneumococcal (PCV13/PPSV), Human Papillomavirus (HPV2/HPV4), Hepatitis B, Tetanus, Diphtheria & Pertussis (Tdap), Measles, Mumps & Rubella (MMR) and Chickenpox (Varicella). |
| | |
| --- | --- |
| | Part of MOH's Swab & Go Home programme. Our clinic can carry out the COVID-19 Swab test for anyone who meets the MOH medical criteria. All individuals aged 13 and above, diagnosed with ARI will be COVID Swab-tested. Cost of Swab test to be borne by Ministry of Health Singapore. |
Part of the National Influenza Sentinel Surveillance programme with MOH. If you have a fever of > 38 degrees with a cough, our clinic is able to test for COVID-19. For children below 12 years old with clinical diagnosis of HFMD (eg fever, oral ulcers, rash), our clinic can test for Hand Foot & Mouth Disease (The tests are for surveillance purposes only).

---
What is Leukemia?

How do we get Cervical Cancer?

---
Who is at Risk of Colon Cancer?

Learn what is Cancer, Skin Cancer-Types, Causes & Prevention, Melanomas Explained. Detecting Skin with Dermoscopy

---
How a Gluten-free Diet can Improve your Chronic Illnesses

Healthy Diets for Optimal Health

---
Groups at Higher Risk for Severe Illness in a COVID-19 Infection
Comorbidities & Underlying Health Conditions in COVID-19 Patients with Complications
·       Chronic lung diseases including COPD
·       Asthma
·       Dementia
·       Chronic Neurological Disorders
·       Cancer
·       Obesity
·       Smoking
·       Chronic Hematologic disease / Haemoglobin Blood Disorders
·       Liver disease / Hepatitis B Infection
·       Immunodeficiency / Immunocompromised eg HIV AIDS
(Ref: https://www.nature.com/articles/s41430-020-0642-3.pdf, Dailymail.co.uk, https://pubmed.ncbi.nlm.nih.gov/32320003/, Comorbidity and its impact on 1590 patients with Covid-19 in China: A Nationwide Analysis https://erj.ersjournals.com/content/early/2020/03/17/13993003.00547-2020
---
Co-infection of COVID-19 with other infectious diseases is possible.

Reduce your risk of getting sick with COVID-19
Make sure your vaccinations are up-to-date. People older than 65 years, and those with many underlying conditions, such as those who are immunocompromised or with significant liver disease, are recommended to receive vaccinations against influenza (Flu 2021/22) and pneumococcal disease (PCV). Click here for Vaccination schedules (NAIS/NCIS).

Do not delay getting medical care for your underlying condition because of COVID-19. MD International Medical Centre has contingency MOH infection prevention protocols to protect you from getting COVID-19 if you need care for your underlying condition.
Continue your medications and do not change your treatment plan without talking to your doctor.

Make sure that you have at least a two-week supply of your chronic disease medications

.

Call MDIMC @ Tel: 6694 1661 for a medical appointment if you have any concerns about your underlying medical conditions or if you get sick. Our clinic is a PHPC-accredited medical clinic. Under the MOH Swab & Go Home programme, our doctors can do a COVID-19 PCR Swab test if you meet the MOH medical crtieria.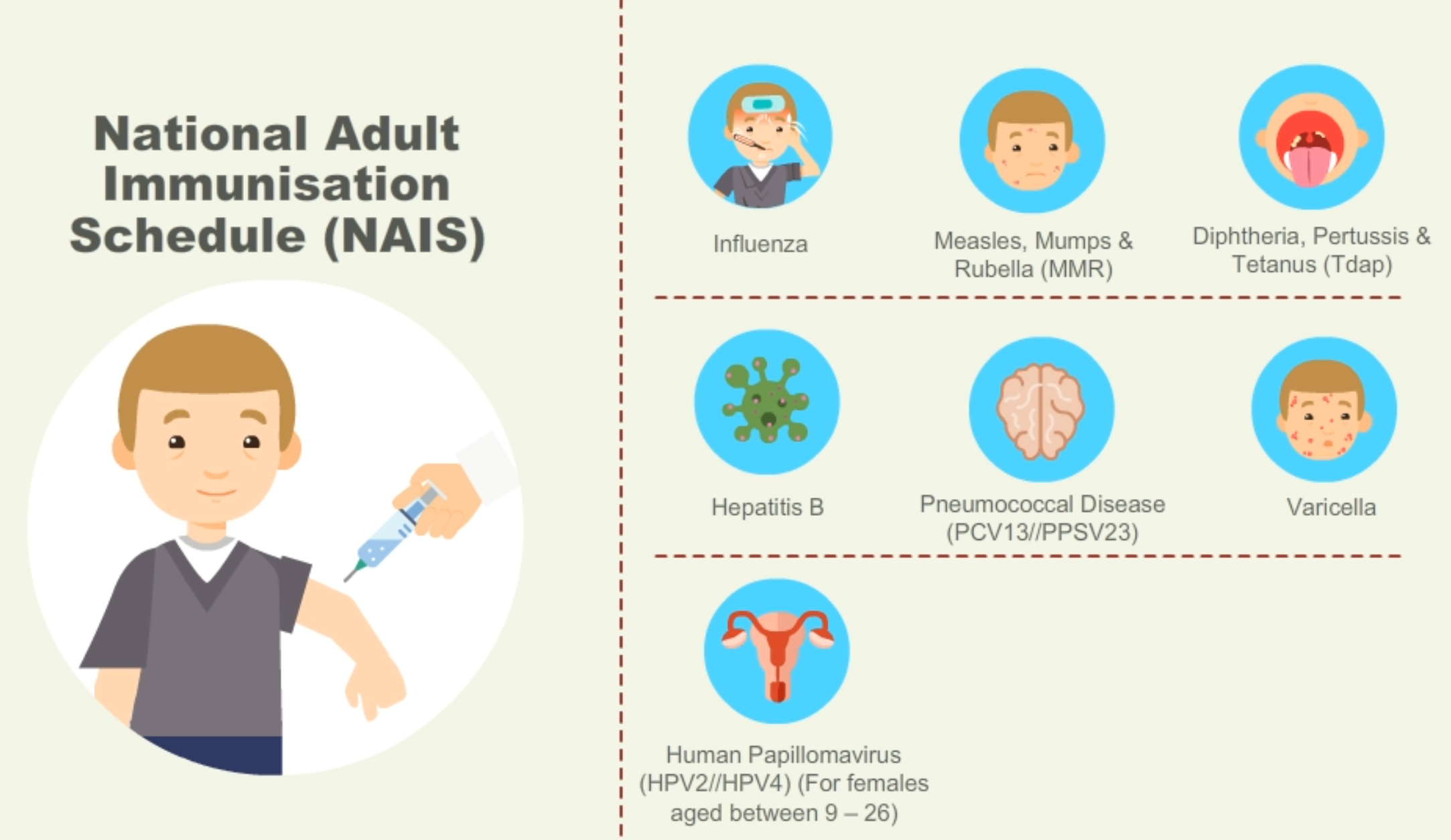 Singapore is free from vaccine-preventable diseases like poliomyelitis, diphtheria, tetanus and pertussis (whooping cough) because of our successful immunisation progamme.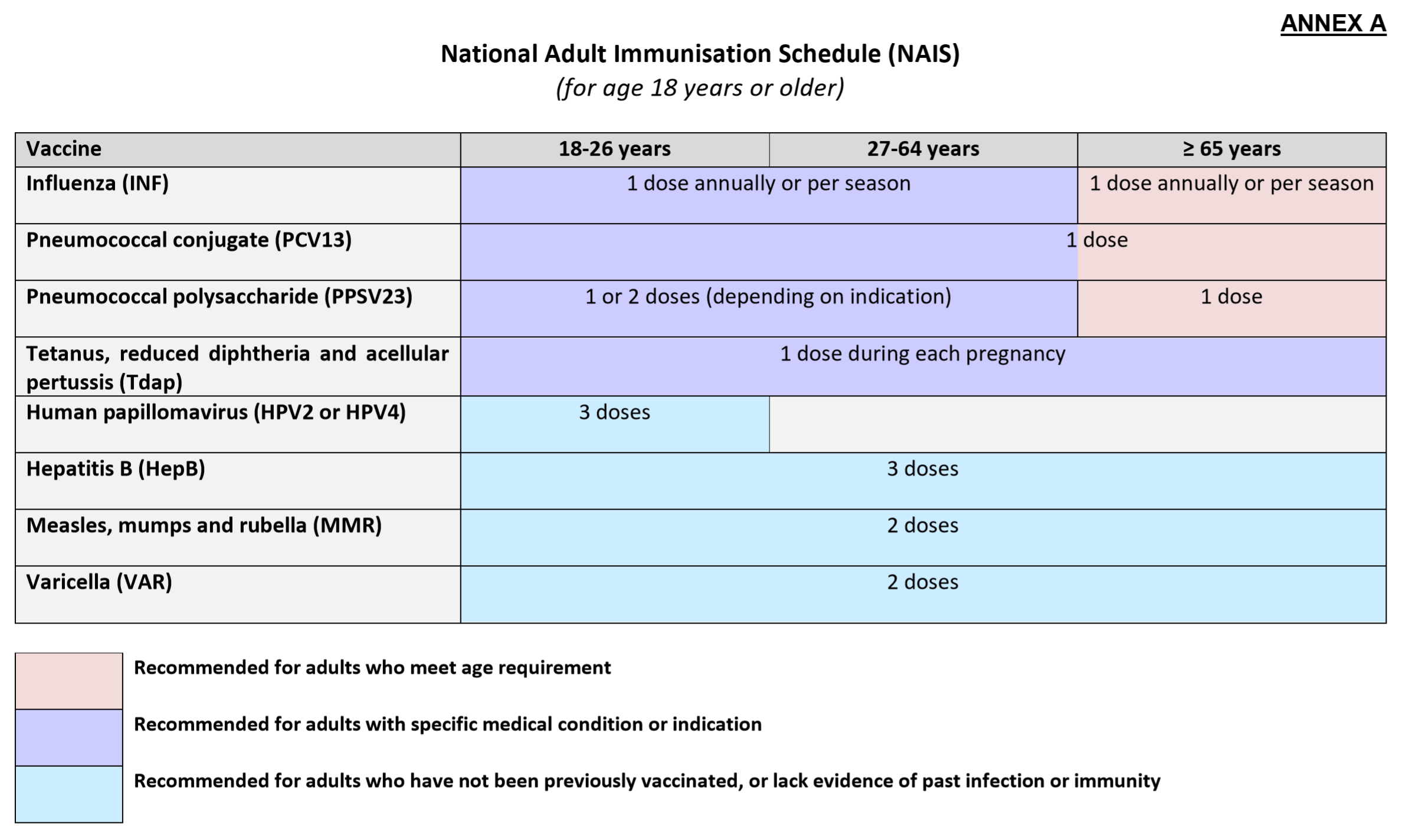 Up to $400 per Medisave Account per year can be used for Vaccinations under the National Adult & Childhood Immunisation Schedule - Influenza, Pneumococcal (PCV13/PPSV), Human Papillomavirus (HPV2/HPV4), Hepatitis B, Tetanus, Diphtheria & Pertussis (Tdap), Measles, Mumps & Rubella (MMR) and Chickenpox (Varicella).
National Adult Immunisation Schedule (NAIS) Singapore @ MD International Medical Centre. Make your vaccination appointment at Tel: 6694 1661.

---
MD International Medical Centre

Medical Services available :
---
Public Health Preparedness Clinic
National University Health System Primary Care Network
Singapore Ministry of Health Chronic Disease Management Programme (CDMP)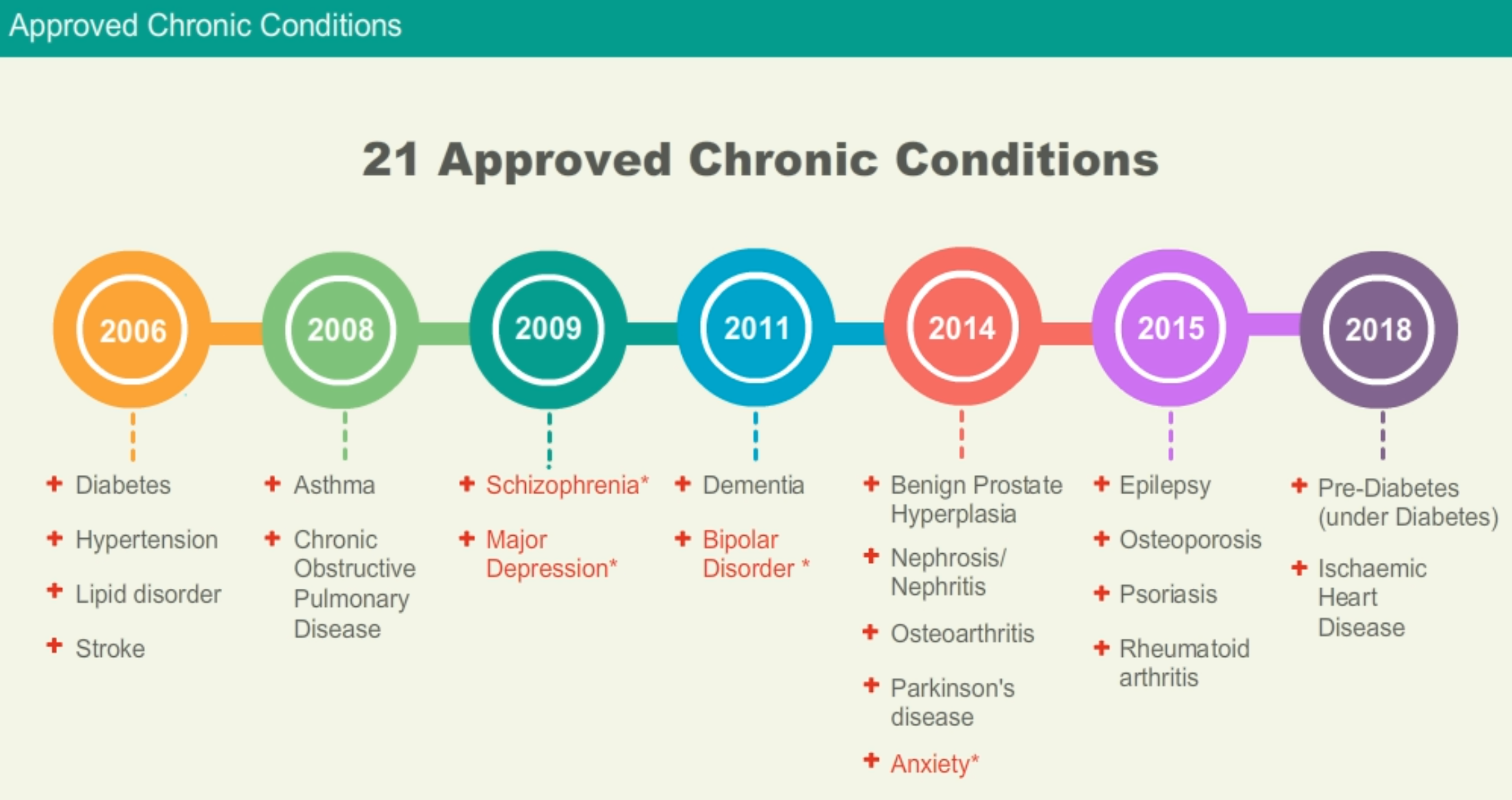 The information provided in this website is for knowledge purposes only. It does not constitute medical advice.

Should you encounter any medical problem that you are unsure of, always consult your doctor or health care provider for assistance and medical advice.
MD International (Singapore) Pte Ltd