| | |
| --- | --- |
| Flu Subsidy Scheme eligible for Singaporeans & PRs (Pay subsidized rate of $10 for Consultation and Treatment) & Merdeka Generation /Pioneer Generation seniors (Pay subsidized rate of $5) for patients diagnosed with Acute Respiratory Infections (ARIs). Please make your appointment at Tel: 6694 1661. | |
| | |
| --- | --- |
| | AIPC is part of MOH's Swab & Go Home programme. Our clinic can carry out the COVID-19 Swab test for anyone who meets the MOH medical criteria. |
AIPC is part of the National Influenza Sentinel Surveillance programme with MOH. If you have a fever of > 38 degrees with a cough, our clinic is able to test for COVID-19. For children below 12 years old with clinical diagnosis of HFMD (eg fever, oral ulcers, rash), our clinic can test for Hand Foot & Mouth Disease (The tests are for surveillance purposes only).

Up to $400 per Medisave Account per year can be used for Vaccinations under the National Adult Immunisation Schedule - Influenza, Pneumococcal (PCV13/PPSV), Human Papillomavirus (HPV2/HPV4), Hepatitis B, Tetanus, Diphtheria & Pertussis (Tdap), Measles, Mumps & Rubella (MMR) and Varicella.
| | |
| --- | --- |
| | Fight against Dengue! |

AMDA International Peace Clinic, in collaboration with NEA will be giving away a FREE bottle of Mosquito Repellent each to AMDA clinic patients. While stocks last! Make your appointment at Tel: 6694 1661.
---
What Causes Dry Skin?

| | |
| --- | --- |
| | Dry skin is a common problem, especially in people with atopic dermatitis (eczema). It is rough, scaly skin that is dry to touch and less elastic than normal skin. Some people describe it as feeling like sandpaper. It is especially common in cold, dry climates. |
WHAT CAUSES DRY SKIN?
The main feature is a lack of water or moisture in the skin surface. It also appears to be caused by a relative lack of natural oils. However, the main problem is insufficient water to moisturize the skin.
WHAT ARE THE EFFECTS OF DRY SKIN?
It is not a serious medical problem. One of the worst irritating effects is itching (itchy skin). Cracking of the skin (particularly of the legs) can occur in older people, especially in winter. People often complain of a 'crawling' sensation in the skin. Dry skin does not cause wrinkles.
WHAT MAKES DRY SKIN WORSE?
Too much washing and bathing. Too long and too often.

Use of very hot water

Use of traditional alkali soaps

Cold weather

Low humidity and artificial heating

Dry air

Overexposure to wind and cold

Poor diet
WHAT IS THE TREATMENT FOR DRY SKIN? - Skin Care Tips

WASHING AND BATHING
It is important not to have frequent long baths or showers. Reduce the number and length of baths or showers. It is probably better to avoid baths, swimming in pools and bathing in spa baths. Concentrate on having short showers and perhaps at times have the so-called APC (armpit and crotch) scrub with soap and water instead of a shower or a bath. Use tepid water instead of hot water.
BATH OILS
The addition of oils to baths helps to seal in moisture in the skin. However, you must be careful not to slip getting in and out of the tub, as bath oils make the tub surface slippery.
SOAPS
Avoid using the traditional alkali soaps and harsh soaps. Use soap substitutes such as Dove, Neutrogena or Cetaphil lotion. Less expensive soaps such as oatmeal soap, which are readily obtained from health shops, can also be used.
AFTER SHOWERING
After you shower, do not rub hard with a towel but pat dry and then rub a bath oil or mild baby oil into the skin
CLOTHING
Avoid wearing wool next to the skin. Do not wear heavy woollen clothing. Wear cotton clothing.
SKIN SOFTENERS AND LUBRICANTS
Apart from various mineral oils and Vaseline intensive care, preparations that soften, lubricate and soothe the skin include QV skin lotion.
MOISTURIZERS FOR DRY SKIN

Although skin softeners act as moisturizers, the urea based moisturizers can help make the skin more soft and supple. Examples are Nutraplus or suitable moisturizing agent such as QV cream.
DIET
Eat a well balanced diet. Drink ample water during the day.
KEY POINTS:
Dry skin lacks surface moisturizer

Avoid excessive bathing and showering

Take shorter and cooler showers

Apply skin softener or moisturizer after showering

Use soap substitutes

Avoid wool and heavy clothing next to skin

Avoid overheating and dryness in rooms

Follow a good diet

Drink plenty of water
---
A Comprehensive Allergy Test can be done at our medical clinic. Please make an appointment for a consultation with Dr Don Lau at Tel: 6694 1661.
Comprehensive Allergies Test for up to 101 allergens:
* Food Allergy eg Seafood, Nuts, Eggs, Fish, Meat, Fruits, Seeds or Vegetables.
* Dust/Mold Allergy
* Insect Sting Allergy.
* Pet/Cockroach Allergy.
* Eye or Skin Allergy
* Sinus Infection/Allergic Rhinitis
* Drug/Latex Allergy

Health Assessment & Screening Packages

---
---
These other webpages below may also interest you, click to learn more about your health condition.

Skin Problems - Treatment for Allergies, Dermatitis, Eczema & Urticaria/Hives

---
Dermatology Problems - Acne, Dry Skin, Warts, Corns & Calluses on Feet

I Love Nutritional Science: Dr. Joel Fuhrman at TEDxCharlottesville 2013
Joel Fuhrman, M.D., is a board-certified family physician, New York Times best-selling author and nutritional researcher who specializes in preventing and reversing disease through nutritional and natural methods. He is an internationally recognized expert on nutrition and natural healing, and has appeared on hundreds of radio and television shows including The Dr. Oz Show, the Today Show, Good Morning America, and Live with Kelly. Fuhrman's own hugely successful PBS television shows, 3 Steps to Incredible Health! and Fuhrman's Immunity Solution! bring nutritional science to homes all across America.

As a former world class figure skater, Fuhrman placed second in the United States National Pairs Championships in 1973 and third in the 1976 World Professional Pairs Skating Championship in Jaca, Spain. Today, he is an active participant in multiple sports and is a health and fitness enthusiast. His dedication to sports medicine, foot and body alignment, injury prevention, and human performance and longevity speaks to these lifelong interests. Along with his nutritional expertise, Fuhrman has been involved professionally with sports medical committees, advised professional and Olympic athletes, and has lectured to athletic trainers and world-class athletes for maximizing performance and preventing injury.

---
Healthy Diets for Optimal Health

---
---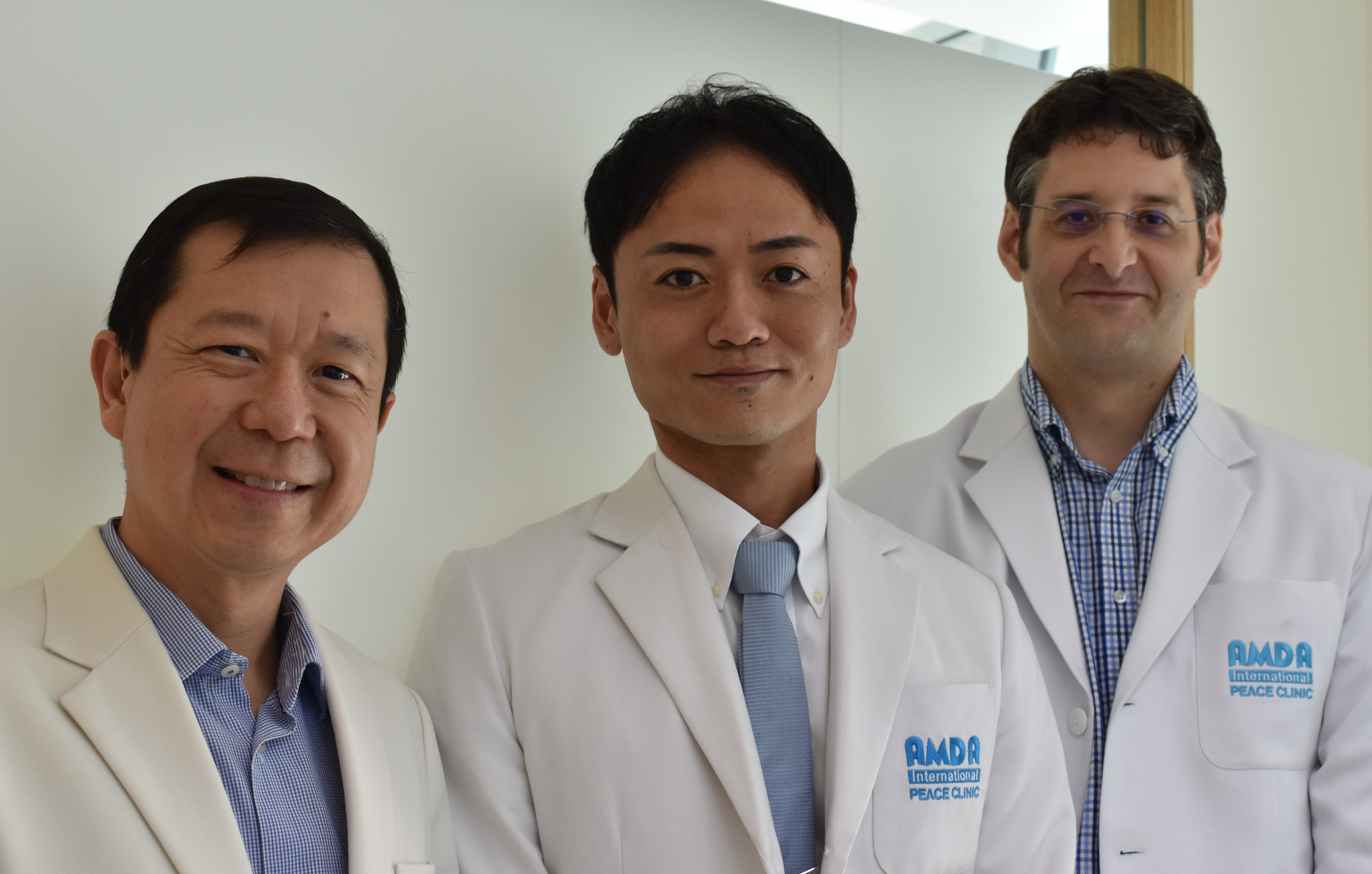 Our Medical Team

Dr Don Lau - Medical Director
Dr Timothy Hart - Resident Doctor
Fujiwara Takanori - Doctor of Chiropractic

The information provided in this website is for knowledge purposes only. It does not constitute medical advice.

Should you encounter any medical problem that you are unsure of, always consult your doctor or health care provider for assistance and medical advice.
Dr Don V H LAU   Chairperson of AMDA Singapore
MBBS (Monash), B.Med.Sc.(Hons) (Monash), Grad.Dip.Derm.(Wales,UK)

AMDA International Peace Clinic is a part of AMDA (Association of Medical Doctors of Asia). We are part of the network of AMDA Peace Clinics & Friendship Hospitals around the world. We dedicate part of our profits to AMDA's worldwide Emergency Disaster Aid Relief missions, Social Development projects and Vaccination programmes.
AMDA, founded in 1984 has carried out more than 200 medical missions, contributing medical expertise and supplies in 65 countries over the last 36 years. AMDA holds General Consultative Status with the United Nations Economic & Social Council (UN ECOSOC) since 1995.
AMDA International Chapters   Afghanistan Albania Bosnia & Herzegovina Bangladesh Bolivia Cambodia Canada Colombia Guyana Haiti Honduras India Indonesia Kazakhstan Korea Kosovo Malaysia Mongolia Nepal New Zealand Pakistan Peru Philippines Sakha Republic Singapore Sri Lanka Sudan Taiwan Uganda Vietnam Zambia