| | |
| --- | --- |
| Flu Subsidy Scheme eligible for Singaporeans & PRs (Pay subsidized rate of $10 for Consultation and Treatment) & Merdeka Generation /Pioneer Generation seniors (Pay subsidized rate of $5) for patients diagnosed with Acute Respiratory Infections (ARIs). Please make your appointment at Tel: 6694 1661. | |
| | |
| --- | --- |
| | AIPC is part of MOH's Swab & Go Home programme. Our clinic can carry out the COVID-19 Swab test for anyone who meets the MOH medical criteria. |
AIPC is part of the National Influenza Sentinel Surveillance programme with MOH. If you have a fever of > 38 degrees with a cough, our clinic is able to test for COVID-19. For children below 12 years old with clinical diagnosis of HFMD (eg fever, oral ulcers, rash), our clinic can test for Hand Foot & Mouth Disease (The tests are for surveillance purposes only).

Up to $400 per Medisave Account per year can be used for Vaccinations under the National Adult Immunisation Schedule - Influenza, Pneumococcal (PCV13/PPSV), Human Papillomavirus (HPV2/HPV4), Hepatitis B, Tetanus, Diphtheria & Pertussis (Tdap), Measles, Mumps & Rubella (MMR) and Varicella.
| | |
| --- | --- |
| | Fight against Dengue! |

AMDA International Peace Clinic, in collaboration with NEA will be giving away a FREE bottle of Mosquito Repellent each to AMDA clinic patients. While stocks last! Make your appointment at Tel: 6694 1661.
---
What is Urticaria or Hives?
Urticaria, also known as hives, is a common allergic disorder in which a red, itchy, lumpy skin rash appears out of the blue. These skin lumps, which are known as weals, can develop anywhere on the body, including the palms and soles. The weals, which have pale centers and red margins, can spread out and join up to form large irregular patches. They are usually about 1cm to 5cm across. These weals can rapidly change shape and come and go over a period of minutes or hours. Urticarial rash can be acute onset (in which the cause is often known and the disorder settles within 6 weeks) or chronic (where it lasts longer).
WHAT CAUSES URTICARIA OR HIVES?
| | |
| --- | --- |
| | Urticaria is a type of allergy resulting from a release of a chemical called histamine. The cause of this histamine release is often unknown, but common causes are foods, drugs and infestations. Sometimes the cause is very obvious, such as when urticarial rash appears minutes after eating. |
CHECKLIST OF POSSIBLE HIVE CAUSES:
Foods: eggs, nuts, shellfish, other fish, cheese, oranges, chocolate, caffeine, strawberries and others

Food colourings

Drugs: penicillin, sulpha antibiotics, aspirin, codeine, vaccines and others

Insect bites: bees, wasps, sandflies, fleas, mosquitoes and others

Azo dyes

Plants: nettles, poison ivy and others

Animals: cats, horses and others

Infection: viral, bacterial or fungal

Infestation: parasites

Exposure to heat and cold

Exposure to sunlight

Underlying chronic disease (e.g. lupus, lymphoma)

Last trimester of pregnancy
NOTE THAT TENSION AND STRESS USUALLY MAKE URTICARIA / HIVES WORSE.
WHAT IS ANGIO-OEDEMA?
This is a serious form of urticaria in which the face, especially the lips and skin around the eyes, suddenly swells. It can be serious if the throat swells up. You should contact your doctor immediately if this develops.
HOW IS THE CAUSE OF URTICARIA FOUND?
You may be asked to keep a food diary and note any associations. You may have to undergo patch testing of your skin to find out what you may be allergic to.
WHAT IS THE TREATMENT FOR URTICARIA / HIVES?
Antihistamines, usually take by mouth, are used to relieve rash and itching. Avoid taking aspirin or other drugs not prescribed for you

Itching can be relieved by daubing with calamine lotion

Cold water compresses such as soaking a towel in cold water can also relieve itching. Avoid hot baths or showers during the acute phase - keep it cool!

Decrease your activity during the acute phase. It is better not to get hot and sweaty

Avoid alcohol and caffeine-containing drinks, especially is there is a possibility of these being a trigger factor
A Comprehensive Allergy Test can be done at our medical clinic. Please make an appointment for a consultation with Dr Don Lau at Tel: 6694 1661.
Comprehensive Allergies Test for up to 101 allergens:
* Food Allergy eg Seafood, Nuts, Eggs, Fish, Meat, Fruits, Seeds or Vegetables.
* Dust/Mold Allergy
* Insect Sting Allergy.
* Pet/Cockroach Allergy.
* Eye or Skin Allergy
* Sinus Infection/Allergic Rhinitis
* Drug/Latex Allergy

The Proven and Unexpected Way to Fix Allergies
In this video, Dr. Mike VanDerschelden explains the true cause of allergies and how to easily fix over 80% of the cases for allergies that the doctors are not telling you.
---
---
Why the Flu Vaccination is Important
during the COVID-19 Pandemic

- Influenza 2020 Vaccine

The latest 2020 Influenza Vaccine is now available. It protects against the Flu 2020 and H1N1 Viruses. In the event that a person displays flu-like symptoms after the Flu vaccination, both Flu 2020 and H1N1 may be excluded in his diagnosis, and treatment can be sought quickly should the patient have contracted COVID-19.
Ministry of Health Safety protocols are adhered to at all times for the safe vaccination of you and your family.
* Latest COVID-19 Updates & Health Tips
These other webpages below may also interest you, click to learn more about your health condition.

Risk Factors of COVID-19 Complications

Source : Observer Research Foundation

Dermatology Problems - Acne, Dry Skin, Warts, Corns & Calluses on Feet

---
Skin Problems - Treatment for Allergies, Dermatitis, Eczema & Urticaria/Hives

---
Health Assessment & Screening Packages

---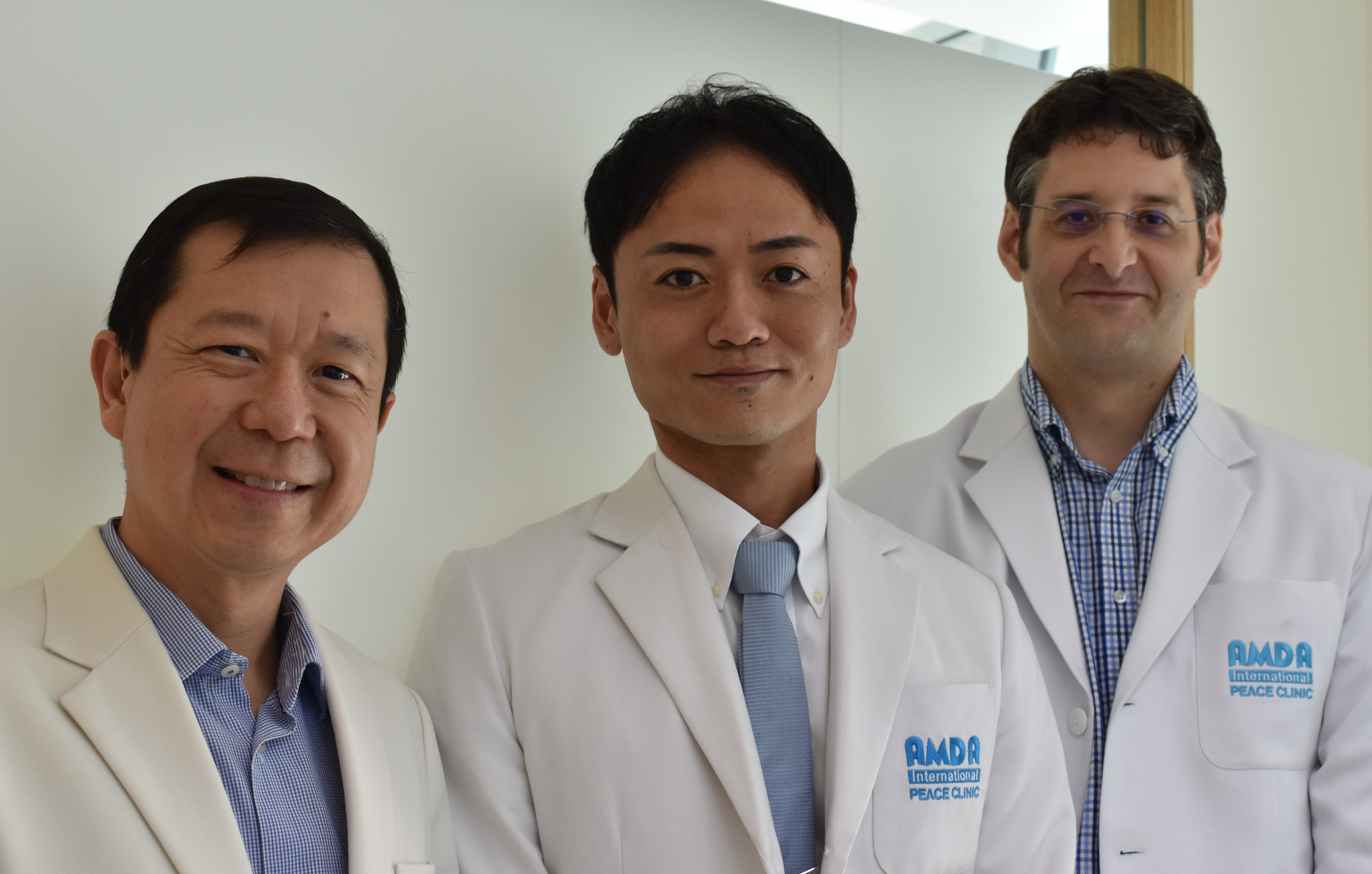 Our Medical Team

Dr Don Lau - Medical Director
Dr Timothy Hart - Resident Doctor
Fujiwara Takanori - Doctor of Chiropractic

The information provided in this website is for knowledge purposes only. It does not constitute medical advice.

Should you encounter any medical problem that you are unsure of, always consult your doctor or health care provider for assistance and medical advice.
Dr Don V H LAU   Chairperson of AMDA Singapore
MBBS (Monash), B.Med.Sc.(Hons) (Monash), Grad.Dip.Derm.(Wales,UK)

AMDA International Peace Clinic is a part of AMDA (Association of Medical Doctors of Asia). We are part of the network of AMDA Peace Clinics & Friendship Hospitals around the world. We dedicate part of our profits to AMDA's worldwide Emergency Disaster Aid Relief missions, Social Development projects and Vaccination programmes.
AMDA, founded in 1984 has carried out more than 200 medical missions, contributing medical expertise and supplies in 65 countries over the last 36 years. AMDA holds General Consultative Status with the United Nations Economic & Social Council (UN ECOSOC) since 1995.
AMDA International Chapters   Afghanistan Albania Bosnia & Herzegovina Bangladesh Bolivia Cambodia Canada Colombia Guyana Haiti Honduras India Indonesia Kazakhstan Korea Kosovo Malaysia Mongolia Nepal New Zealand Pakistan Peru Philippines Sakha Republic Singapore Sri Lanka Sudan Taiwan Uganda Vietnam Zambia