| | |
| --- | --- |
| Flu Subsidy Scheme eligible for Singaporeans & PRs (Pay subsidized rate of $10 for Consultation and Treatment) & Merdeka Generation /Pioneer Generation seniors (Pay subsidized rate of $5) for patients diagnosed with Acute Respiratory Infections (ARIs). Please make your appointment at Tel: 6694 1661. | |
| | |
| --- | --- |
| | AIPC is part of MOH's Swab & Go Home programme. Our clinic can carry out the COVID-19 Swab test for anyone who meets the MOH medical criteria. |
AIPC is part of the National Influenza Sentinel Surveillance programme with MOH. If you have a fever of > 38 degrees with a cough, our clinic is able to test for COVID-19. For children below 12 years old with clinical diagnosis of HFMD (eg fever, oral ulcers, rash), our clinic can test for Hand Foot & Mouth Disease (The tests are for surveillance purposes only).

Up to $400 per Medisave Account per year can be used for Vaccinations under the National Adult Immunisation Schedule - Influenza, Pneumococcal (PCV13/PPSV), Human Papillomavirus (HPV2/HPV4), Hepatitis B, Tetanus, Diphtheria & Pertussis (Tdap), Measles, Mumps & Rubella (MMR) and Varicella.
| | |
| --- | --- |
| | Fight against Dengue! |

AMDA International Peace Clinic, in collaboration with NEA will be giving away a FREE bottle of Mosquito Repellent each to AMDA clinic patients. While stocks last! Make your appointment at Tel: 6694 1661.
---
Normal Blood Sugar Levels
Normal Blood Sugar Levels are provided in the Blood Glucose Chart. A simple diabetes blood test using diabetes test strips allows for continuous blood glucose monitoring at home.
How do you check your blood glucose level?
Put blood from a finger prick on a diabetes test strip. Blot off excess blood with a tissue. Read the glucose test strip either by comparing the colour with the colour chart on the test strip bottle or by using an electronic blood glucose meter. It is important to follow the instructions on the bottle or meter carefully.
---
When should you check your diabetes blood sugar levels?
Routinely
For Diabetes Mellitus type 2 (usually controlled by diet for diabetes and diabetes medicine, or by diet alone), 2-3 times each week at different times of the day is enough.
For Diabetes Mellitus type 1 (which requires insulin), more regular checking is required; that is, at least once a day, usually first thing before breakfast and then about 2 hours after a meal.
Your blood glucose levels are likely to be low before meals and high 2 hours after meals.
Special Circumstances
Stress, illness or too much food will push your blood glucose level up and you can get high blood sugar readings.
Exercise and your diabetes medications will pull your blood glucose level down.
When you are ill or under a lot of stress or exercising more than usual, you may need to check your blood sugar levels more often than usual.
What are the Ideal Blood glucose levels?
Ideal or normal blood sugar levels are 3-6 mmol/L before meals and 3-7 mmol/L 2 hours after meals.
Fair control is a blood sugar level range of 6-8 mmol/L before meals and 7-10 mmol/L after meals.
---
Risk Factors of COVID-19 Complications

Source : Observer Research Foundation

---
Diabetes Symptoms, Monitoring, Diet, Treatment & Health tips

---
Blood Glucose Chart
- Normal Blood Sugar Range (Targets of Glycaemic Control)
---
HbA (%)

Pre-meal Glucose

mmol/L (mg/dL)

2-hour post-meal glucose

mmol/L (mg/dL)

4.5-6.4

4.0-6.0

(72-108)

5.0-7.0

(90-126)

6.5-7.0

6.1-8.0

(110-144)

7.1-10.0

(128-180)
- Diabetes Blood Sugar Levels that are suboptimal or unacceptable
---
HbA (%)

Pre-meal Glucose

mmol/L (mg/dL)

2-hour post-meal glucose

mmol/L (mg/dL)

7.1-8.0

8.1-10.0

(146-180)

10.1-13.0

(182-234)

>8.0

>10.0

(>180)

>13.0

(>234)
* Based on Singapore Ministry of Health Clinical Practice Guidelines for Diabetes Mellitus 2006
---
Diabetes Self Management by Continuous glucose monitoring
Check your blood glucose level regularly, and record the result and the date and time of the test in a blood glucose log.
Be careful to follow the instructions accurately.
Ideal or normal blood sugar range is between 3 and 7 mmol/L.
If you are ill or under stress, your blood glucose level is likely to go up. You should check it more often than usual, and see your doctor if it does go up.
Don't forget to record the date, time and result of your blood sugar test.
---
Health Assessment & Screening Packages

---
---
Groups at Higher Risk for Severe Illness in a COVID-19 Infection
Comorbidities & Underlying Health Conditions in COVID-19 Patients with Complications
·       Hypertension
·       Diabetes mellitus
·       Cerebrovascular disease
·       Cardiovascular disease
·       Chronic lung disease (COPD)
·       Chronic Kidney disease
·       Asthma
·       Dementia
·       Chronic Neurological Disorder
·       Cancer
·       Rheumatological Disorder
·       Obesity
·       Smoking
·       Chronic Hematologic disease / Haemoglobin Disorders
·       Liver disease / Hepatitis B Infection
·       Malnutrition
·       Immunodeficiency / Immunocompromised eg HIV AIDS
·       People aged 65 and older
(Ref: https://www.nature.com/articles/s41430-020-0642-3.pdf, Dailymail.co.uk, https://pubmed.ncbi.nlm.nih.gov/32320003/, Comorbidity and its impact on 1590 patients with Covid-19 in China: A Nationwide Analysis https://erj.ersjournals.com/content/early/2020/03/17/13993003.00547-2020

Reduce your risk of getting sick with COVID-19
Make sure your vaccinations are up-to-date. People older than 65 years, and those with many underlying conditions, such as those who are immunocompromised or with significant liver disease, are recommended to receive vaccinations against influenza (Flu 2020) and pneumococcal disease (PCV).
Do not delay getting medical care for your underlying condition because of COVID-19. AMDA International Peace Clinic has contingency MOH infection prevention protocols to protect you from getting COVID-19 if you need care for your underlying condition.
Continue your medications and do not change your treatment plan without talking to your doctor.

Make sure that you have at least a two-week supply of your chronic disease medications

.

Call AMDA @ Tel: 6694 1661 for a medical appointment if you have any concerns about your underlying medical conditions or if you get sick. AMDA is a PHPC-accredited medical clinic. Under the MOH Swab & Go Home programme, our doctors can do a COVID-19 PCR Swab test if you meet the MOH medical crtieria.
Why the Flu Vaccination is Important
during the COVID-19 Pandemic

- Influenza 2020 Vaccine

The latest 2020 Influenza Vaccine is now available. It protects against the Flu 2020 and H1N1 Viruses. In the event that a person displays flu-like symptoms after the Flu vaccination, both Flu 2020 and H1N1 may be excluded in his diagnosis, and treatment can be sought quickly should the patient have contracted COVID-19.
Ministry of Health Safety protocols are adhered to at all times for the safe vaccination of you and your family.
* Latest COVID-19 Updates & Health Tips
---
Chiropractic Pain Management, FSS, Vaccinations, COVID-19 Handbook

---
Return from Normal Blood Sugar Levels to Symptoms of Diabetes
Return from Normal Blood Sugar Levels to Diabetic Foot Care
Return from Normal Blood Sugar Levels to Diabetes Diet Information and Self help Treatment
Return to AMDA.sg Sitemap
Return to AMDA.sg Home page
Daily bread - Can any human body handle gluten? Dr. Rodney Ford | TEDxTauranga
Gluten – friend or foe?
This was the talk that got the standing ovation and changed everyone's eating habits for the rest of evening. Over the course of 15 minutes Dr. Rodney Ford, MB. BS. MD. FRACP, and a pioneer in the field of paediatric food allergies, convinced an audience of 500 that nobody is equipped to digest gluten. How did he do it? By using lego! Dr. Ford showed us the indigestible gluten protein is chased by the antibodies that our systems create to combat the gluten. Based on decades of research, Dr. Ford believes that abundant health can be achieved by anyone who eats the appropriate foods.

Dr Rodney Ford, MB. BS. MD. FRACP, is a paediatrician and former Associate Professor in the Department of Paediatrics at Christchurch Clinical School. He is a specialist in food allergy and gastroenterology at the 'The Children's Clinic and Allergy Centre', Christchurch, New Zealand. Rodney's philosophy is "diet: not drugs" as he has seen too many people given medications for symptoms without first considering the possibility of food allergy or food intolerance. Rodney has been investigating adverse reactions to gluten for over 20 years and these illnesses have now been labelled "Gluten-related disorders" or Gluten Syndrome, with world-wide evidence accumulating that gluten may not be healthy for us all. Dr. Ford's current goal is to bring communities up-to-date about the harmful effects of gluten.

---
---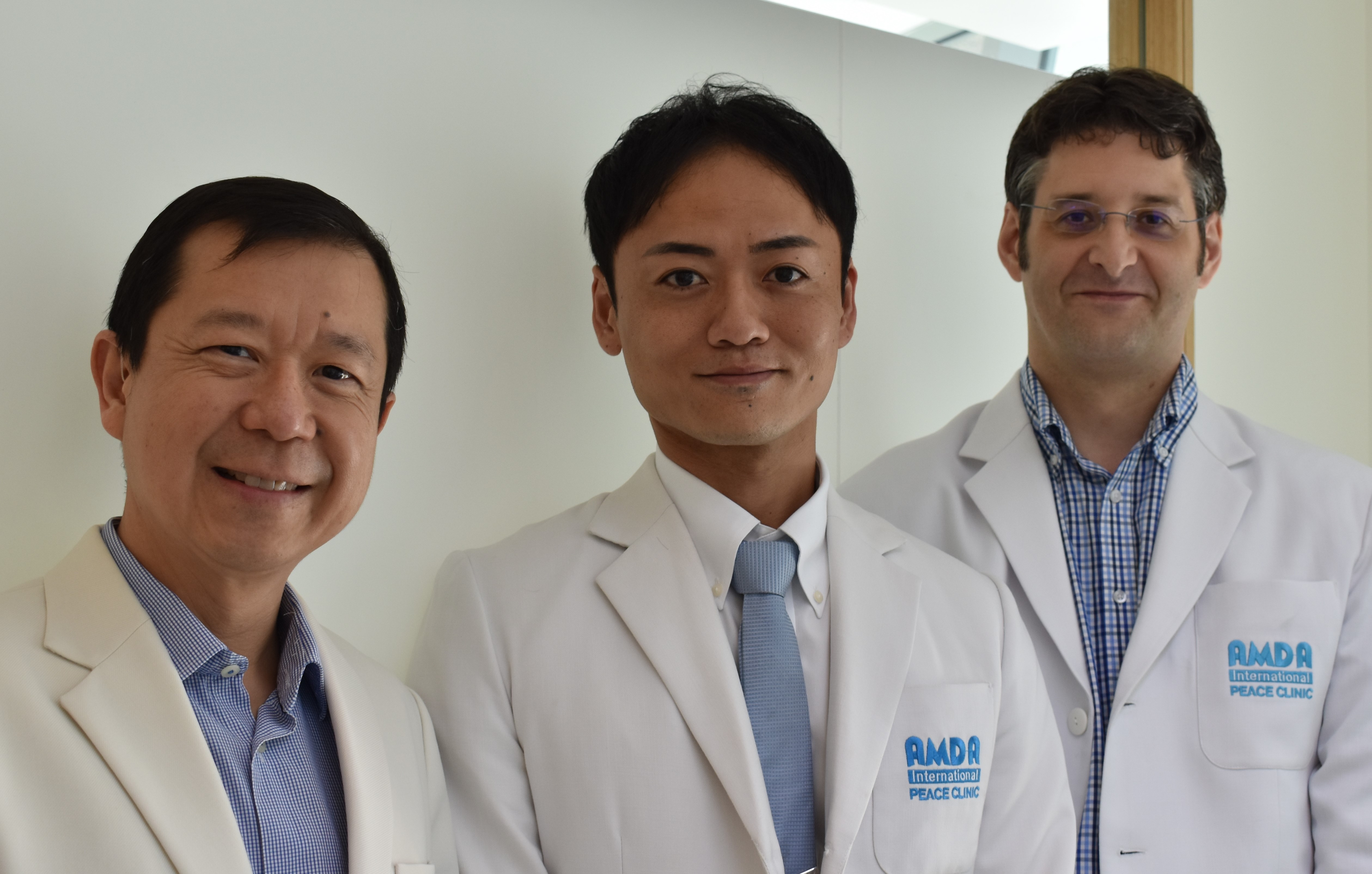 Our Medical Team

Dr Don Lau - Medical Director
Dr Timothy Hart - Resident Doctor
Fujiwara Takanori - Doctor of Chiropractic

The information provided in this website is for knowledge purposes only. It does not constitute medical advice.

Should you encounter any medical problem that you are unsure of, always consult your doctor or health care provider for assistance and medical advice.
Dr Don V H LAU   Chairperson of AMDA Singapore
MBBS (Monash), B.Med.Sc.(Hons) (Monash), Grad.Dip.Derm.(Wales,UK)

AMDA International Peace Clinic is a part of AMDA (Association of Medical Doctors of Asia). We are part of the network of AMDA Peace Clinics & Friendship Hospitals around the world. We dedicate part of our profits to AMDA's worldwide Emergency Disaster Aid Relief missions, Social Development projects and Vaccination programmes.
AMDA, founded in 1984 has carried out more than 200 medical missions, contributing medical expertise and supplies in 65 countries over the last 36 years. AMDA holds General Consultative Status with the United Nations Economic & Social Council (UN ECOSOC) since 1995.
AMDA International Chapters   Afghanistan Albania Bosnia & Herzegovina Bangladesh Bolivia Cambodia Canada Colombia Guyana Haiti Honduras India Indonesia Kazakhstan Korea Kosovo Malaysia Mongolia Nepal New Zealand Pakistan Peru Philippines Sakha Republic Singapore Sri Lanka Sudan Taiwan Uganda Vietnam Zambia