* Pre-Departure COVID-19 PCR  Swab & Serology Test for Travellers available at AIPC, Make your appointment at Tel: 6694 1661. Click here for more details.

| | |
| --- | --- |
| | AIPC is part of MOH's Swab & Go Home programme. Our clinic can carry out the COVID-19 Swab test for anyone who meets the MOH medical criteria. From 1 Jul 20, all individuals aged 13 and above, diagnosed with ARI will be COVID Swab-tested. Cost of Swab test to be borne by Ministry of Health Singapore. |
| | |
| --- | --- |
| Flu Subsidy Scheme eligible for Singaporeans & PRs (Pay subsidized rate of $10 for Consultation and Treatment) & Merdeka Generation /Pioneer Generation seniors (Pay subsidized rate of $5) for patients diagnosed with Acute Respiratory Infections (ARIs). Please make your appointment at Tel: 6694 1661. | |
AMDA Int'l Peace Clinic is now part of
The NUHS Primary Care Network
- NUHS PCN is a Ministry of Health initiative with National University Hospital System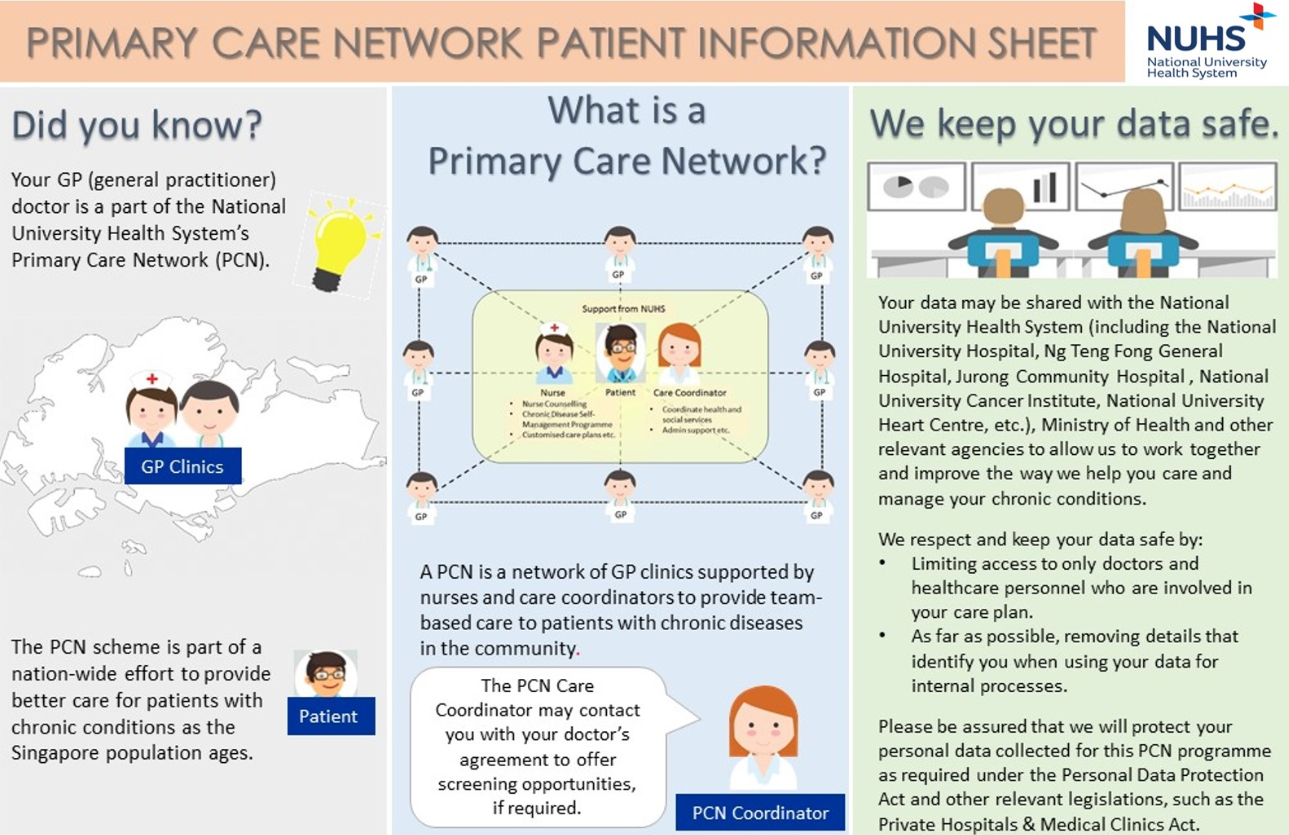 Living with a chronic condition can be challenging. However, understanding more about your condition and doing your part to manage it will help you care for yourself better.
AMDA facilitates patient-centric care and enhance the first line of care in the community for CDMP Conditions:
• Ischaemic Heart Disease (IHD)
• Diabetes Mellitus
• Pre-Diabetes
• Hypertension
• Lipid disorders
• Stroke
• Dementia
• COPD
• Asthma
• Osteoarthritis (OA)
• Benign Prostatic Hyperplasia (BPH)
• Nephritis / Nephrosis (CKD)
• Parkinson's Disease
• Epilepsy
• Osteoporosis
• Psoriasis
• Rheumatoid arthritis (RA)
• Schizophrenia
• Major Depression
• Bipolar Disorder
• Anxiety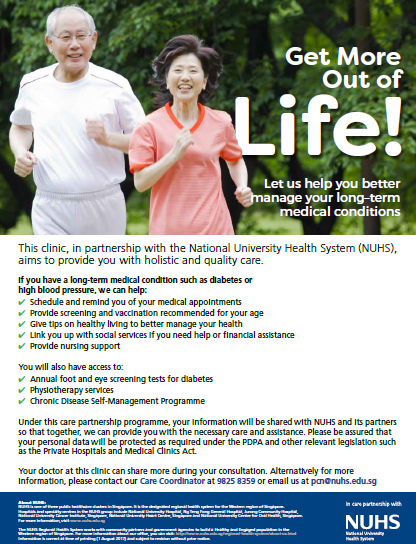 AMDA SG has a variety of initiatives in place to support you in your journey and help you make better health choices:
• Symptom(s) management
• Nutrition and exercise
• Relaxation techniques
• Medication usage
• Self-management goals
• Goal setting and problem solving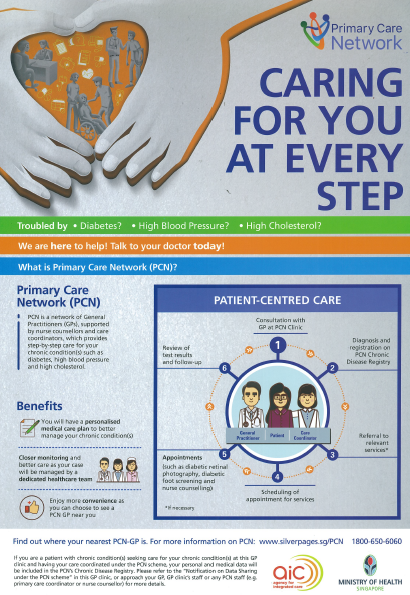 Patients will have access to the following services under NUHS PCN :
Nurse and dietary counselling
Diabetic eye screening and diabetic foot screening
Spirometry
Medication at subsidised prices supplied by NUH pharmacy
Screening for individuals eligible for Screen For Life programme
Referrals to financial assistance and social services, if applicable
As part of the PCN programme, you will be enrolled onto a chronic disease register so that we can work closely with NUHS to monitor your health and treatment outcomes, to help us better manage your chronic condition.

---
| | |
| --- | --- |
| | Up to $400 per Medisave Account per year can be used for Vaccinations under the National Adult & Childhood Immunisation Schedule - Influenza, Pneumococcal (PCV13/PPSV), Human Papillomavirus (HPV2/HPV4), Hepatitis B, Tetanus, Diphtheria & Pertussis (Tdap), Measles, Mumps & Rubella (MMR) and Chickenpox (Varicella). |
| | |
| --- | --- |
| FIGHT AGAINST DENGUE! AMDA International Peace Clinic, in collaboration with NEA will be giving away a FREE bottle of Mosquito Repellent each to AMDA clinic patients. | |
AIPC is part of the National Influenza Sentinel Surveillance programme with MOH. If you have a fever of > 38 degrees with a cough, our clinic is able to test for COVID-19. For children below 12 years old with clinical diagnosis of HFMD (eg fever, oral ulcers, rash), our clinic can test for Hand Foot & Mouth Disease (The tests are for surveillance purposes only).

---
Vitamins & Nutrients for a Well-functioning Immune System to Protect against COVID-19 & other Viral Infections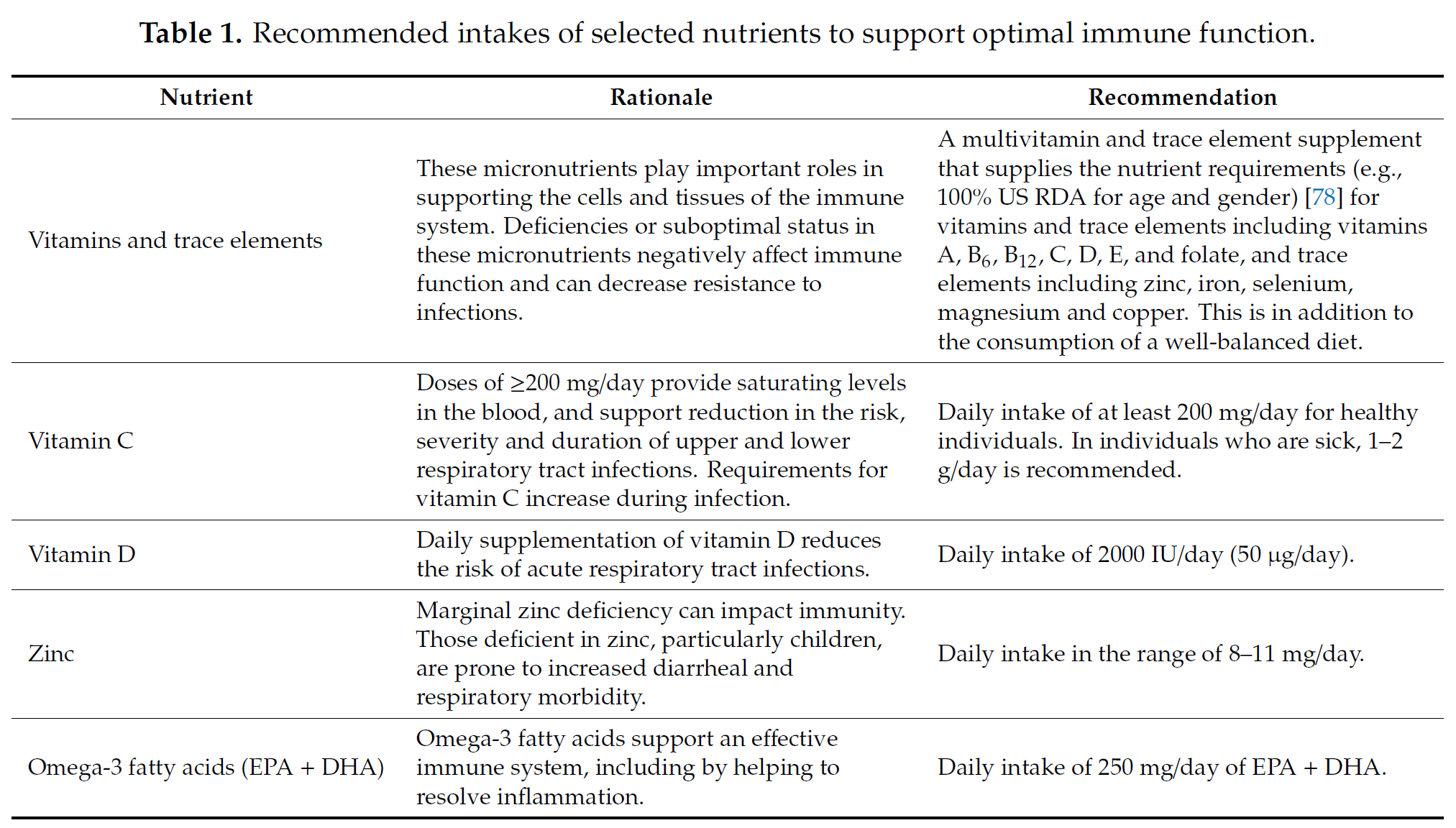 (Ref: Nutrients. 2020 Apr 23;12(4). pii: E1181. doi: 10.3390/nu12041181 Optimal Nutritional Status for a Well-Functioning Immune System Is an Important Factor to Protect against Viral Infections Calder PC1, Carr AC2, Gombart AF3, Eggersdorfer M4.
---
How a Gluten-free Diet can Improve your Chronic Illnesses

Healthy Diets for Optimal Health

---
Risk Factors of COVID-19 Complications

Source : Observer Research Foundation

---
Lung, Neurological, Liver & Kidney Diseases

Public Health Preparedness Clinic
National University Health System Primary Care Network
Singapore Ministry of Health Chronic Disease Management Programme (CDMP)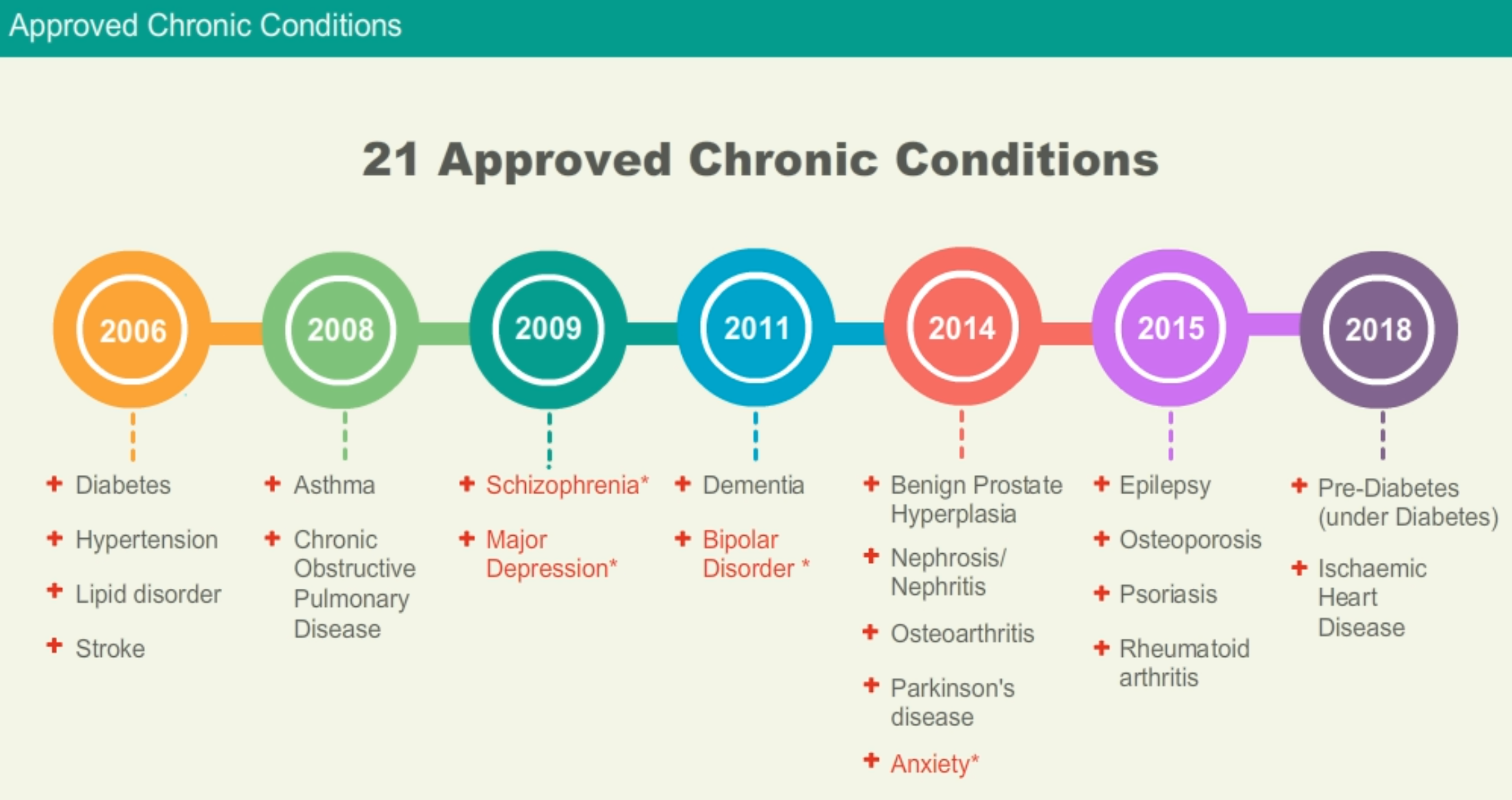 The information provided in this website is for knowledge purposes only. It does not constitute medical advice.

Should you encounter any medical problem that you are unsure of, always consult your doctor or health care provider for assistance and medical advice.
Dr Don V H LAU   Chairperson of AMDA Singapore
MBBS (Monash), B.Med.Sc.(Hons) (Monash), Grad.Dip.Derm.(Wales,UK)

AMDA International Peace Clinic is a part of AMDA (Association of Medical Doctors of Asia). We are part of the network of AMDA Peace Clinics & Friendship Hospitals around the world. We participate in AMDA's worldwide Emergency Disaster Aid Relief missions, Social Development projects and Vaccination programmes.
AMDA, founded in 1984 has carried out more than 200 medical missions, contributing medical expertise and supplies in 65 countries over the last 36 years. AMDA holds General Consultative Status with the United Nations Economic & Social Council (UN ECOSOC) since 1995.
AMDA International Chapters   Afghanistan Albania Bosnia & Herzegovina Bangladesh Bolivia Cambodia Canada Colombia Guyana Haiti Honduras India Indonesia Kazakhstan Korea Kosovo Malaysia Mongolia Nepal New Zealand Pakistan Peru Philippines Sakha Republic Singapore Sri Lanka Sudan Taiwan Uganda Vietnam Zambia