AMDA International Peace Clinic

AIPC Location, Services and Operating hours
Walk in Clinic Services (Open Weekdays, Saturdays & Sundays)
Treatments available :
General Illness and Infections
Dermatology

Obesity / Weight control
Eye Health
Personal Health
Allergies / Asthma
Vaccinations / Immunization (eg Flu jab)
Depression / Anxiety / Stress Management
Management of Chronic Diseases (eg Diabetes / Hypertension)
Heart Disease / High Cholesterol
Chest pains
Health Management
Men's Health
Women's Health
Child Health
Elderly / Senior Health
Pain Management (eg Arthritis, Back Pain, Migraine)
Travel Health
Health Screening / Blood tests
Erectile Dysfunction medications

Sexually transmitted diseases (STD)
Look Younger - Botox injections (For appointment, call 65-6272 4145)
Dr Don Lau is a general practitioner and family doctor, with a post graduate diploma in Dermatology. He manages AMDA International Peace Clinic which serves the international community in Singapore. AMDA International Peace Clinic is affiliated to AMDA International (Association of Medical Doctors of Asia) and dedicates part of its profits to AMDA's worldwide disaster emergency relief, social development projects and vaccination programmes.

To see Dr Don Lau specifically, please call 65-6694 1661 (AMDA) to make an appointment.
AMDA International Peace Clinic
501 Orchard Road, #05-01 Wheelock Place, Singapore 238880
Tel : 65-6694 1661  Fax : 65-6694 1771
Email : info@amda.sg
Dr Don Lau's AMDA Clinic sessions -
Monday, Tuesday, Thursday & Friday 9am-12.30pm   2-6.30pm
Wednesday 2-6.30pm

Saturday & Sunday 9.30am-1pm
Closed on Public Holidays
Dr William Tan's AMDA Clinic sessions -
Wednesday 9am-12.30pm

---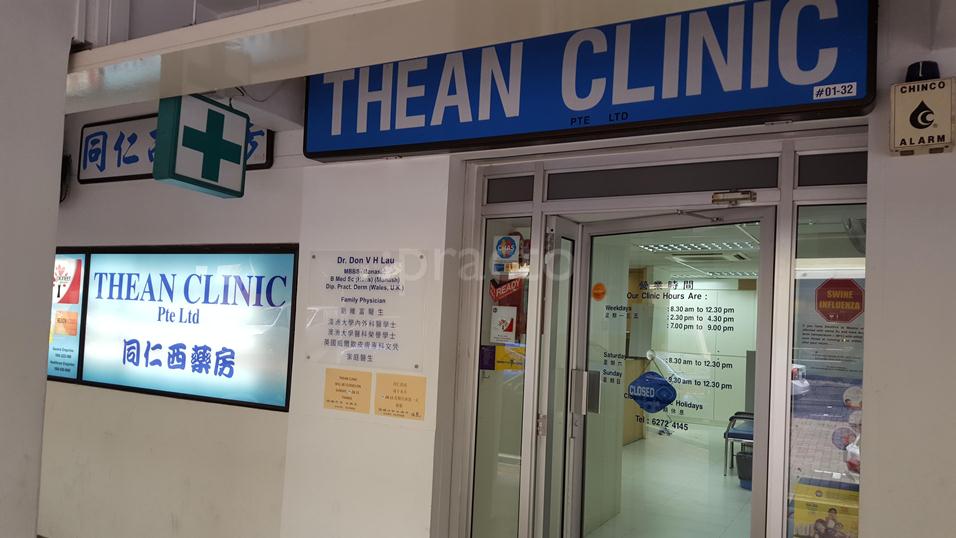 Thean Clinic Pte Ltd
Walk in Clinic (Open Weekdays, Saturdays & Sundays)
Blk 38 Beo Crescent, #01-32, Singapore 160038 Tel : 65-6272 4145
Clinic hours :
Weekdays (Monday, Tuesday, Thursday, Friday) 8.30am-12.30pm, 2.30-4.30pm, 7-9pm
Wednesday 8.30am to 12.30pm, 2.30 to 4.30pm
Saturday 8.30am to 12.30pm
Sunday 9.30am to 12.30pm
All sessions are under Dr William Tan except
Dr Don Lau's Clinic sessions -
Monday & Thursday 7 - 9pm
Wednesday 9am - 12.30pm

Insurance Healthcare Medical Clinic Network / Affiliate Clinic Programme
Community Health Assist Scheme (CHAS)

Pioneer Generation (PG)


Parkway Shenton affiliate clinic

Health Promotion Board - Pandemic Preparedness Clinic

Medisave Accredited

IHP / AHP

Raffles Medical Network for Seagate Technology staff

---
Watch this fascinating Ted.com video by Dan Buettner, National Geographic writer and explorer who studies the world's longest-lived peoples, distilling their secrets into a single plan for health and long life - How to live to be 100+.
Return from AMDA Int'l Peace Clinic Services to AMDA.sg Sitemap
Return to AMDA.sg Home page
The information provided in this website is for knowledge purposes only. It does not constitute medical advice.

Should you encounter any medical problem that you are unsure of, always consult your doctor or health care provider for assistance and medical advice.
Dr Don V H LAU   Chairperson of AMDA Singapore
MBBS (Monash), B.Med.Sc.(Hons) (Monash), Grad.Dip.Derm.(Wales,UK)

AMDA International Peace Clinic is a part of AMDA (Association of Medical Doctors of Asia). We are part of the network of AMDA Peace Clinics & Friendship Hospitals around the world. We dedicate part of our profits to AMDA's worldwide Emergency Disaster Aid Relief missions, Social Development projects and Vaccination programmes.
AMDA, founded in 1984 has carried out more than 160 missions in 65 countries over the last 32 years. It has contributed medical expertise and supplies to every major natural disaster since 1984. AMDA holds General Consultative Status with the United Nations ECOSOC since 1995.
AMDA International Chapters   Afghanistan Albania Bosnia & Herzegovina Bangladesh Bolivia Cambodia Canada Colombia Guyana Haiti Honduras India Indonesia Kazakhstan Korea Kosovo Malaysia Mongolia Nepal New Zealand Pakistan Peru Philippines Sakha Republic Singapore Sri Lanka Sudan Taiwan Uganda Vietnam Zambia